State of Arizona – Department of Revenue Special Events License
If you have NOT exhibited in Tucson before, you are required to complete and mail a Special Event Licensing Form. You apply at:
Apply for a TPT License
After opening URL, click the download link in the middle of the page to download the form. If you are a new exhibitor and are NOT participating in any field testing, then you only need to pay the $12 for a single location. The Expo center is not in the city limits of Tucson, so you do not need to pay the Tucson fee.
If you are participating in the Dive/ROV or Sonar field testing, that is being conducted inside Tucson city limits, so you would pay the Tucson $20, and 2 locations ($12 each).
If you are participating in other field testing (ie Drones, Technical Rope Rescue, ATV etc) , then you would need to pay for 2 locations at $12 each.
If you are a returning exhibitor you should be able to reinstate your business license with the Department of Revenue by merely submitting a copy of your AZ license to the Arizona Department of Revenue along with a note to reinstate it. Arizona business licenses are valid indefinitely as long as you advise them.
If you only exhibit in Arizona once a year, when you complete and return your Arizona Tax Form after the show is over, write across the front of the form "Suspend License until 2023″ Otherwise you will continue to receive tax forms every month thereafter and will be required to complete and return them, even though you are not doing business in Arizona.
It is ultimately the responsibility of the exhibitor to obtain the appropriate information from the buyer and retain that information for their records, and future audition.
I only do business for special events in Arizona, am I required to have a license?
Yes. The Transaction Privilege Tax Application (short form) must be obtained. This short form is specifically for event licensing or transient vendors and is intended for use by vendors at special events such as Fairs, Shows, Swap Meets, etc.
If you do not have Arizona employees, you may obtain the Short Form. If you do have or use Arizona employees while doing events in Arizona, you must file a Joint Tax Application.
The state license fee is $12 no matter how many special events you attend. However, a separate city license fee is required for each city unless you are currently licensed for the city in which an event will be held. (source)
Taxes (For Exhibitors That Make Retail Sales at Expo)
Tax Information
Tucson's 2.6% and Arizona's 6.1% sales taxes total 8.7% and must be collected on all retail transactions which is defined as anyone purchasing without a business license (guest/visitor badges). After the show ends, you must report your wholesale and retail sales and pay sales taxes separately to Tucson (City taxes) and Arizona (State taxes).
For Arizona taxes, go to www.aztaxes.gov after the show and then select 'Enroll to File and Pay Online' to register and file your Arizona sales tax return. "Sales tax" is called "Transaction Privilege Tax" or TPT in Arizona.
Wholesale buyers with a business license are exempt from sale tax, but it is the responsibility of you the seller to record the business license information should you be audited. If you do not provide the information during an audit, then you will be liable for the 8.6% tax.
Advertisement Schedule
(Check Back Frequently for Changes)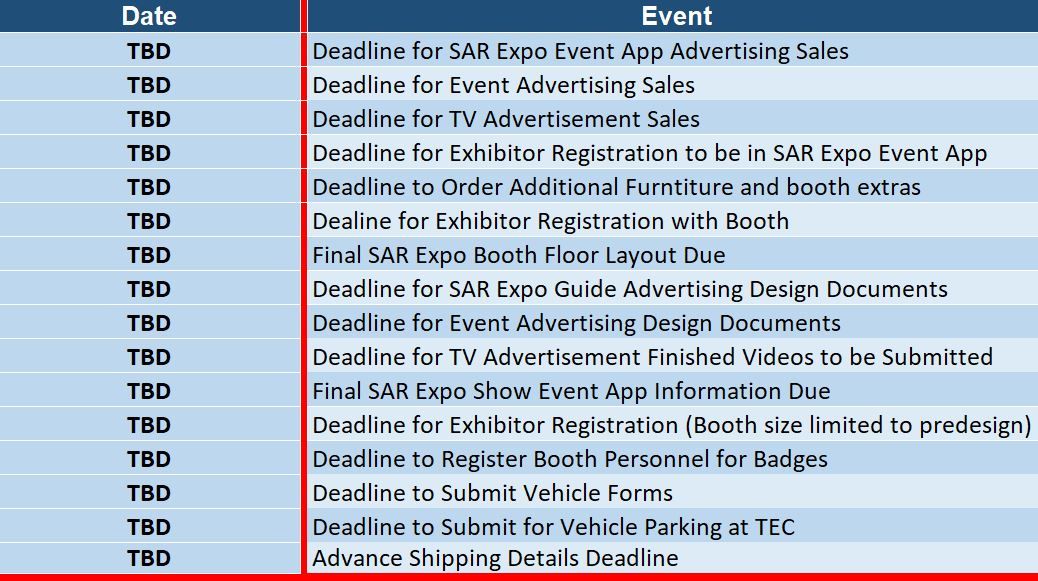 Vehicles or Equipment With Fuel and/or Batteries
No vehicles/trailers are allowed to enter the TEC building premises. Any exceptions must be approved by the Tucson Expo Center in writing. Vehicles allowed must be no more than ¼ gas tank full, cables must be disconnected.
The list of the vendors who park their vehicles/trails overnight on the TEC parking lot must be approved by the TEC management. Parking permits must be displayed. Certain locations will be designated for those vehicles by TEC Management.
Shipping and Logistics
Freight and shipments can be shipped to: Tucson Expo Center, 3750 E Irvington Rd, Tucson, AZ 85714
Receiving shipments: Vendors need to be present to accept shipments. If you are unable to be present to receive shipment, please make special arrangement with SAR Expo staff by emailing matt.bartlett@sarexpo.com. Special arrangements will require release of liability waiver.
Schedule:
Wednesday, Feb 21: Shipments can be delivered after 1200 hrs.
Thursday, Feb 22: 0700-2300 hrs. Booth build-out.
Sunday, Feb 23: Take down and shipments 1500-2300.
Monday, Feb 24: Take down and shipments 0700-1200.